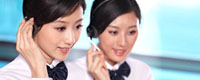 Tel: 86-532-86850280
E-mail: sales@yaosenmarine.com
E-mail: steven@yaosenmarine.com
Add: NO.8~18 XITAI INDUSTRIAL PARK,QINGDAO,CHINA
Skype: S.L.BLUESEA
QQ: 672098863





| | |
| --- | --- |
| | Product name : W4-73I Series High temperature centrifugal ventilator |
Details:
Model W4-73 I high temperature fan
1. W4-73 type I high temperature fan is suitable for conveying high temperature gas with no corrosive content and maximum temperature not exceeding 550 ℃. If the dust content of the gas is large, the dust removal device with dust removal efficiency of not less than 85% should be installed in front of the fan inlet. In order to improve the service life of fan.
2, form
1) the fan is a single suction intake, the engine number is from 6. 3 to 20.
2) the fan rotates clockwise and the outlet position is 0 ~ 90 ~ 180 degrees.
3) the fan is BCU D drive, that is, the motor and fan drive directly through the coupling or the belt wheel.
3. Structural characteristics
1) the impeller is welded with heat resistant stainless steel, and the impeller is corrected by static and static balance and overspeed test.
2) the shell is made of high quality alloy steel welded into spiral case and lined with heat resistant layer (our factory patent technology). For fans with temperatures less than 400 degrees, the housing can also be welded directly with high quality alloy steel or heat-resistant steel.
3) the transmission group consists of main shaft, water-cooled bearing box and cooling device.
4) for the 6 D 8 D fan, the support group adopts the integral support, which has good vibration absorption performance and convenient installation.
4. Performance and performance of the selected high temperature fan refer to the flow rate, total pressure, spindle speed, atmospheric pressure and the temperature of conveying gas, the performance of the fan will change.
Fan performance refers to the performance of the fan at high temperature, regardless of technical or delivery requirements (except for special orders), the performance of the fan at high temperature shall prevail.
1) according to the selected flow rate and total pressure, performance and the selection of high temperature fan in the table, the design and use of the unit according to the selection of high temperature fan number, speed and matching motor, etc.
2) the performance and the performance of each rotational speed in the selection table are divided into 7 ~ 8 performance points according to the performance in the range of maximum efficiency 90%.
Please contact us and get detailed Technical parameters and Drawings.


We could Design and Produce the Marine fan,Industrial Fan,and Other Ventilation Equipment according to your detailed requirement !