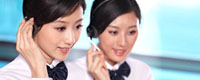 Tel: 86-532-86850280
E-mail: sales@yaosenmarine.com
E-mail: steven@yaosenmarine.com
Add: NO.8~18 XITAI INDUSTRIAL PARK,QINGDAO,CHINA
Skype: S.L.BLUESEA
QQ: 672098863





| | |
| --- | --- |
| | Product name : W9-11 Series High temperature centrifugal air blower fan |
Details:
W9-11 series high temperature centrifugal fan
1. W9-11 series high temperature centrifugal ventilator is suitable for conveying weak corrosive gas with temperature less than 1000 ℃, non-spontaneous combustion gas, gas dust content and hard particle concentration not more than 150 mg / m 3.Because the gas temperature is higher, In order to prevent the influence of high temperature heat radiation gas on bearing temperature, the bearing shell is cooled by water, and a circulating cooling water jacket is added. The drive mode of the fan is V-belt drive with electromagnetic speed regulating motor.
2. The impeller of this kind of fan is made of stainless steel with heat resistance and anticorrosion, and the casing is made of double layer insulation structure. The direction of 180 degrees left is commonly used, and other directions can also be made.
3, performance and selection
When the temperature of the conveying medium of the fan is less than 1000 ℃, the fan motor should stop running when the temperature of the transported medium exceeds the standard, and when the pressure of cooling water is lower than 200 KPA, there should be an alarm device. The maximum working speed of the main shaft of the fan is less than 1600 r / min. The maximum working speed is 1 300 r / min. The inner diameter of the pipe connected with the fan should not be less than Φ 170 mm, the length should not exceed 40 m, and there should be equal expansion joints of Ω type. The cooling water quantity is about 2 m3 / h and the inlet temperature is 20 ℃.
Please contact us and get detailed Technical parameters and Drawings.

We could Design and Produce the Marine fan,Industrial Fan,and Other Ventilation Equipment according to your detailed requirement !