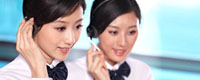 Tel: 86-532-86850280
E-mail: sales@yaosenmarine.com
E-mail: steven@yaosenmarine.com
Add: NO.8~18 XITAI INDUSTRIAL PARK,QINGDAO,CHINA
Skype: S.L.BLUESEA
QQ: 672098863





| | |
| --- | --- |
| | Product name : W5-40-11 Series High temperature ventilation fan |
Details:
W5-40-11 high temperature fan
1. The fan is used as a complete set of vertical tube preheater inducer with Φ 2.4m × 40m outside the kiln in cement plant, and can be used in other cases where the working conditions are similar and the function is suitable.
2, form
1) the fan is a single suction D drive.
2) the fan can be made into two types: clockwise rotation and reverse rotation. The impeller rotates clockwise into a cyclone in clockwise direction, and the impeller rotates counterclockwise into an inverse whirlwind, which is expressed as "inverse" from one end of the motor.
3. Structural characteristics
1) the impeller is made of backward bending blade, tapered front disc and flat plate rear disk. The material is heat resistant stainless steel, dynamic, static balance and overspeed test.
2) the outlet is equipped with a diffuser to reduce the outlet wind speed and increase the static pressure value.
3) the oil unit includes oil tank, hydraulic pump, oil cooler and so on, and is installed independently.
4) the inlet is equipped with flow regulating device, the opening degree is operated by the handle, and can be locked in the designated position.
5) bearing seats are fitted with thermometers and oil level indicators with water cooling devices. Lubricating oil is fed by motor and circulating oil is supplied by centrifugal electric pumps.
Please contact us and get detailed Technical parameters and Drawings.


We could Design and Produce the Marine fan,Industrial Fan,and Other Ventilation Equipment according to your detailed requirement !