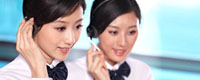 Tel: 86-532-86850280
E-mail: sales@yaosenmarine.com
E-mail: steven@yaosenmarine.com
Add: NO.8~18 XITAI INDUSTRIAL PARK,QINGDAO,CHINA
Skype: S.L.BLUESEA
QQ: 672098863





| | |
| --- | --- |
| | Product name : SDT,SDA(SD) Series Tunnel axial flow fan |
Details:
SDT, SDA (SD) series of tunnel axial fan
1, use
SDT series low noise tunnel axial flow fan is a movable blade adjustable two stage impeller counterrotating. Two special motors equipped with imported SKF Swedish bearings directly drive two rotating opposite impellers.
SDA series low noise tunnel axial flow fan is also a movable vane adjustable single stage impeller rotation, which is driven directly by a special motor equipped with imported Swedish bearings.
Tunnel axial fan is widely used in railway tunnel, highway tunnel water conservancy construction, mine, power station and other underground projects to carry out air exchange ideal ventilation power equipment.
With the increase of tunneling depth, different fan performance is obtained by adjusting the blade installation angle, and the flow pressure is gradually increased, thus reducing the operating cost of the fan. The fan allows the backwind to run, but it must start the backwind operation after the impeller is completely stationary.
The transport medium is air, the dust content is less than 150 mg / 3, the working temperature is -20 ~ 40 ℃, and the relative humidity is less than 50 mg / 3.
For explosion-proof requirements, the ventilator is designed and manufactured according to the technical requirements of explosion-proof, and explosion proof standard dI.
It is an ideal replacement product for ventilation equipment in tunnels, mines and related engineering fields.
2, the characteristics of tunnel axial fan consist of three parts: import muffler (collector, rectifier, current guard, muffler); fan section (shell part, impeller part, motor); outlet noise elimination section (rectifier, diversion, muffler).
1) Impeller part: made of blades and wheels, in which the hub is made of ZG230~450 cast steel, the blade is machined by ZL104 Al-Si alloy precision casting, the blade, the root and the tail of the blade are adjustable, in the design, process, casting, The installation angle can be adjusted according to the requirements of different performance parameters. The adjustment mode is that the impeller is in a static state after stopping, and the blade is regulated one by one. The impeller is corrected strictly by static and dynamic balance. The overspeed test runs smoothly and reliably.
2) Shell: welded from common steel plate, intersected welding static guide vane on inner cylinder, and welding stress is eliminated.
3) muffler: according to the characteristics of sound spectrum of this series fan, it is designed by galvanized steel plate, perforated plate, sound absorbing material, reel plate and guide device, and effectively controls the dynamic noise and radiated sound of airflow.
4) motor: specially designed and manufactured, suitable for operation requirements of altitude 3500m. Its working voltage is 380V, frequency 50Hz, insulation grade F level, protection grade IP54. bearing adopts SKF Sweden imported bearing, it can bear two-way load, it can work continuously for a long time without maintenance.


Please contact us and get detailed Technical parameters and Drawings.

We could Design and Produce the Marine fan,Industrial Fan,and Other Ventilation Equipment according to your detailed requirement !