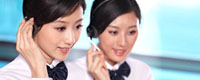 Tel: 86-532-86850280
E-mail: sales@yaosenmarine.com
E-mail: steven@yaosenmarine.com
Add: NO.8~18 XITAI INDUSTRIAL PARK,QINGDAO,CHINA
Skype: S.L.BLUESEA
QQ: 672098863





| | |
| --- | --- |
| | Product name : W9-19 type High temperature high pressure centrifugal fan |
Details:
W9-19 high temperature fan
1. This series of fans are suitable for conveying non-corrosive, non-spontaneous-burning, high-temperature gases with a maximum temperature of no more than 700 ℃, and no more than 150 mg / m ~ 3 of dust and hard particles in the medium
2, type
This series of fans is a single suction type.
This series of fans can be made into two types: right-handed and left-handed. From one end of the motor, the impeller rotates in clockwise direction and is called "right"; counterclockwise, it is called left rotating fan, which is expressed as "left".
The outlet position of the fan is expressed in terms of the outlet angle of the casing. "left" and "right" can be made into 0 degrees 45 degrees, 90 degrees, 135 degrees, 180 degrees and 225 degrees.
3, structural characteristics
1) impeller: there are 12 forward curved blades on the impeller. After the impeller is formed, it can be operated smoothly, safely and reliably through dynamic, static balance and overspeed tests.
Shell: cochlear form made of low alloy steel plates.
(3) inlet: convergent streamlined structure with bolts attached to the front cover plate group.
Transmission group: made up of spindle, water-cooled bearing box, coupling, etc. The spindle adopts high-quality alloy steel, bearing box is integral water-cooled structure.
Please indicate the model, machine number, flow rate, total pressure, use temperature, maximum instantaneous temperature, motor type, outlet angle and rotation direction.
Please contact us and get detailed Technical parameters and Drawings.

We could Design and Produce the Marine fan,Industrial Fan,and Other Ventilation Equipment according to your detailed requirement !