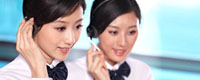 Tel: 86-532-86850280
E-mail: sales@yaosenmarine.com
E-mail: steven@yaosenmarine.com
Add: NO.8~18 XITAI INDUSTRIAL PARK,QINGDAO,CHINA
Skype: S.L.BLUESEA
QQ: 672098863





| | |
| --- | --- |
| | Product name : NTGY-11 Series Boiler centrifugal induced Fan |
Details:
NTGY-11 Series Boiler centrifugal induced Fan
1. Application, application and features of the NTGY-11 series of induced fans are applicable to the air intake system of the 10 ~ 220t / h CFB boiler, and also to the air intake system of the ordinary boiler in this part of our country (I. e., the low atmospheric pressure area, 10 ~ 220t / h). The air inlet condition of the blower is 11.5% 16: 10300 Pa / t ~ (200 ℃) / p ~ (0.745) kg / m ~ (3); the maximum temperature of the fan is not more than 250 ℃ / m ~ (3) / m ~ (3) / m ~ (3) / m ~ (3) = 0.83 kg ·m ~ (3) / m ~ (3), or 0.83 kg / m ~ (3) / m ~ (3), respectively.In order to reduce the dust content of the fume entering the fan, the dust removal device must be installed before, and the efficiency of the dust collection device is more than 85%.
By optimizing design, the fan has the characteristics of high efficiency, low noise, high pressure head, wide high efficiency area, flat performance curve, stable operation, good wear resistance, etc.
2. The blower has impeller, casing, inlet, adjusting door and transmission part.
1) the impeller is made of Q345C16Mn. the blade is welded by a slightly curved blade at the backward exit in the middle of the three-arc front disc and the flat rear disc, and the impeller is operated smoothly by the static and static balance correction at the same time.
2) housing
The shell is welded into a volute line with steel plate. Ash cleaning door is opened on the cochlea plate. At the same time, it is properly thickened to prevent soot wear and prolong service life.
3) the inlet adopts conical arc structure, the air flow evenly flows into the fan, and the bolt is fixed on the inlet side of the housing.
4) the regulating door is used to adjust the wind pressure and volume of the fan. Note: the regulating door must be closed before the fan starts.
5) the transmission group is composed of spindle, bearing box, coupling, etc. The main shaft is made of high quality steel and adopts rolling bearing water-cooled integral bearing box, so it is necessary to install water pipe, and the water consumption varies according to the environmental temperature. The bearing box is fitted with a thermometer and an oil level indicator. The lubricating oil adopts a full-loss system oil L-AN46, and the amount of oil added is required to be marked by the oil level.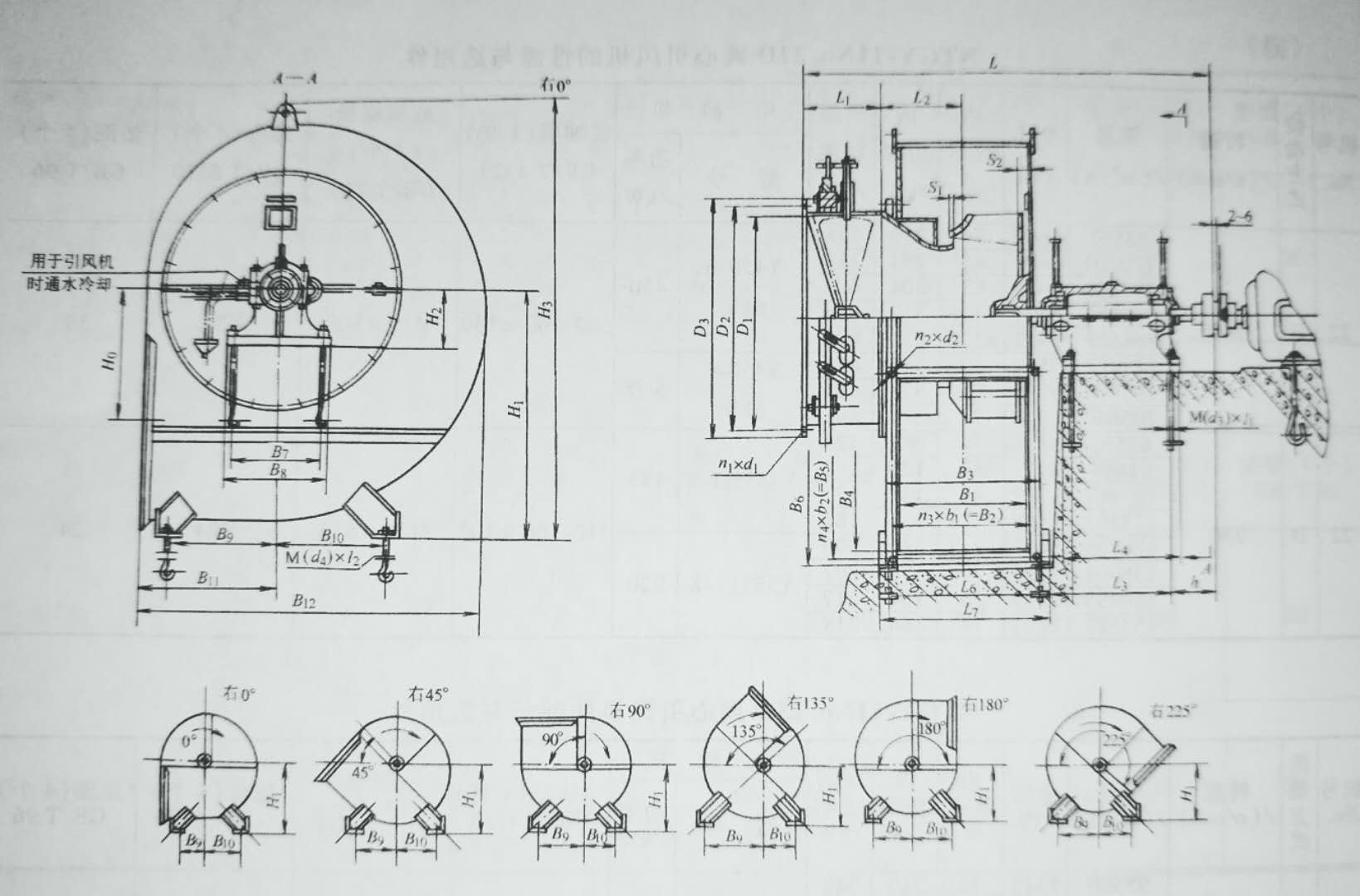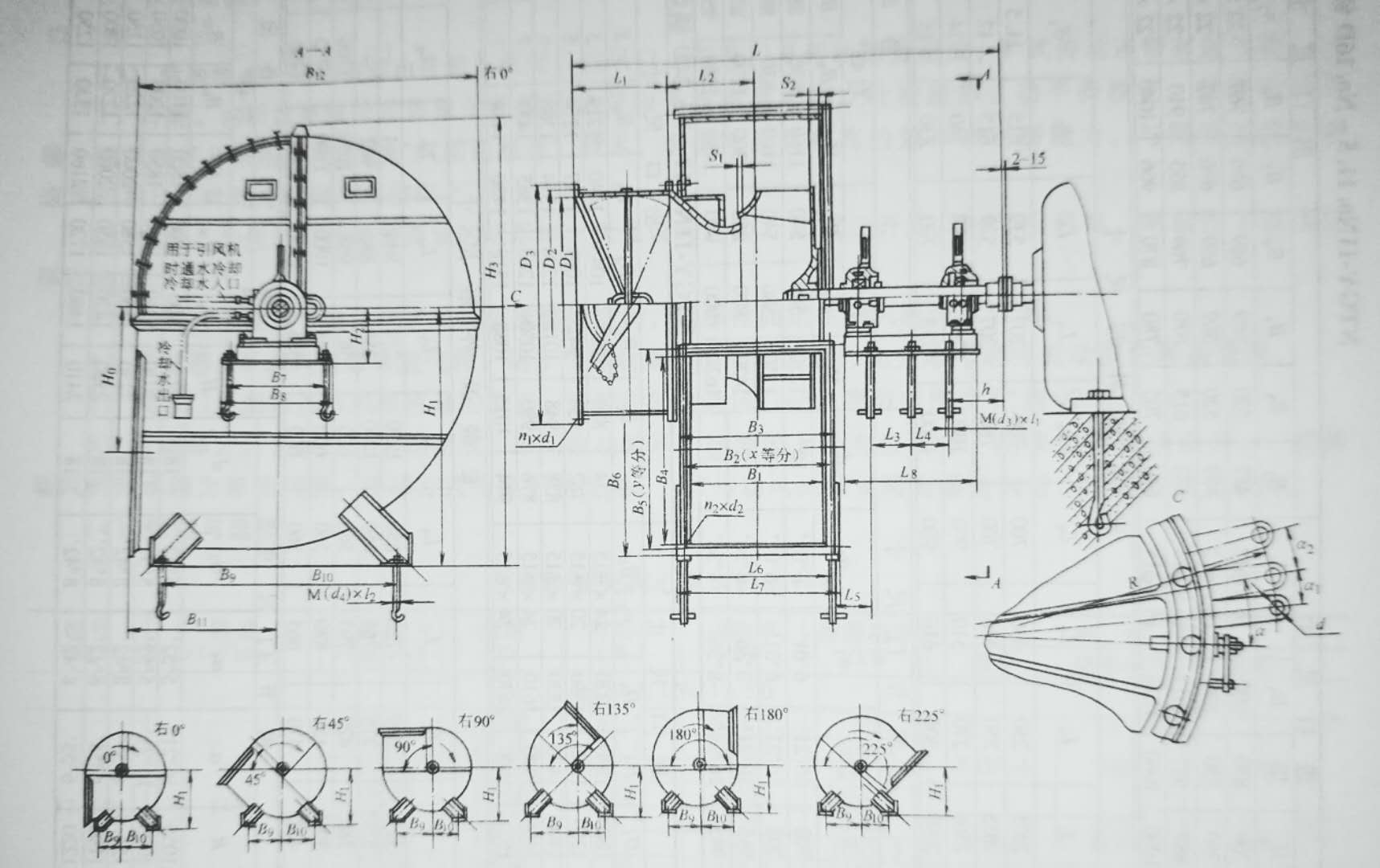 Please contact us and get detailed Technical parameters and Drawings.


We could Design and Produce the Marine fan,Industrial Fan,and Other Ventilation Equipment according to your detailed requirement !